Tom Armstrong: Mother of man missing in Thailand sets up fund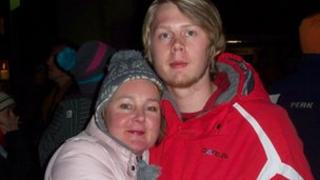 The mother of a Suffolk man, who went missing in Thailand, has set up a fund to help with the search.
Tom Armstrong, 22, from Kelsale near Saxmundham, was due to arrive at Heathrow Airport on 9 January, but he did not board his flight and he has not been in contact since.
Helen Armstrong-Bland, his mother, is hoping any money raised could be used for flights for the family to Thailand.
Kingsley Armstrong, his father, is due to fly to Bangkok at the weekend.
Tom Armstrong had been living on the island of Koh Tao where he had been taking a diving course.
The family said he did not have a mobile phone and the last email they received from him was on 6 January telling them about his flight plans.
'Unknown quantity'
Money was withdrawn from Tom's bank account on 16 January at a machine in Bangkok, Suffolk Police said.
Mrs Armstrong-Bland said: "I have good and bad days, but I'm keeping busy trying to make contacts in Thailand and helping the police.
"In December we received an email from him to say that he'd ran into trouble in Bangkok, but he didn't elaborate on that.
"We're setting up a fund because Tom's dad is going out, I might follow and there might be other costs in the future as it's all a bit of an unknown quantity."
The family said any money left in the fund would be given to the Missing Abroad charity.
The family said Thai police believed the cash machine where money was withdrawn was covered by a CCTV camera.
Kingsley Armstrong said: "We believe Tom is still in Bangkok.
"We've got a bit of information about at least two withdrawals in the city centre."
A Suffolk Police spokesman said: "We continue to work through Interpol and the Foreign and Commonwealth Office with the Thai authorities to help with the investigation into the disappearance of Tom Armstrong."