New Beck Row sign promotes US relations with Suffolk village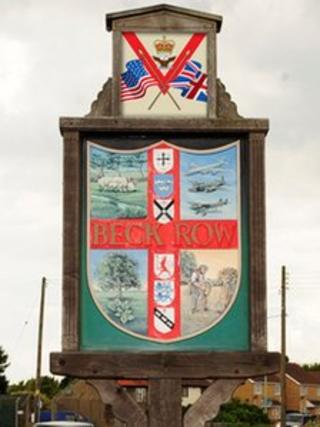 New plaques have been unveiled on a village sign in Suffolk after clocks on the original design failed to work.
The Beck Row sign, designed for the millennium, is about 10ft (3m) tall and stands near RAF Mildenhall.
A clock either side of the sign "never showed the right time", Beck Row Parish Council clerk Jennifer Gates said, so the airbase paid to replace them.
"We're covering up the clocks with a new plaque with the British and American flags on it," she said.
She added: "We have a very close relationship with the base, we live next to each other and this plaque will promote that."
RAF Mildenhall said the sign was funded by its British-American Committee and symbolised the "partnership between the base and the local community".
Sqn Ldr Richard Fryer said: "The United States Air Force has been at RAF Mildenhall for more than 60 years and when the parish council asked me if we would help with a new sign we were happy to help."