Southwold bus ban: New shuttle route outlined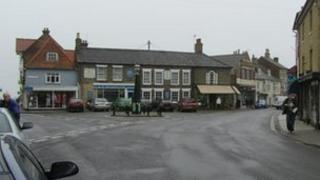 A Suffolk town is set to introduce a new bus service nearly two years after banning buses from its high street.
Southwold Town Council plans to set up a new minibus service to circumnavigate the town centre, harbour and Reydon.
The council, which banned buses from its high street to cut congestion in 2011, refused to reveal the cost but expected the scheme to break even.
Critics said people would still have to walk further from where they were previously dropped-off.
The ban meant buses had to stop at the King's Head pub and could no longer travel another 330 yards (300m) to the Market Place at the other end of the High Street.
The shuttle bus, donated by Suffolk County Council, will run from the King's Head to the pier, the harbour, the healthy living centre in Reydon and the Red Lion pub on Queens Road.
'Major result'
Simon Tobin, chairman of the town council's transport committee, said: "It brings people to the edge of the town centre.
"It's a major result for the whole community as Southwold and Reydon are going to be joined together by a shuttle bus, which we expect to introduce in April."
The East Suffolk Travellers Association (Esta) had criticised the ban and the effect it had on older people.
Rod Lock, secretary of Esta, said: "People will still not be able to get dropped in the middle of town and, if they come in on other buses, they will have to get dropped at the King's Head, get the shuttle bus around the town to the Red Lion and still walk to the High Street.
"It doesn't sound very convenient and we wait with interest to see how people react."