Ipswich bus station 'remodelling' begins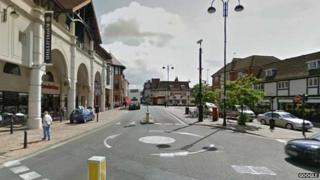 Roads are being closed in Ipswich as a bus station gets a makeover as part of a £21.5m transport scheme.
The Old Cattle Market area is being "remodelled" by Suffolk County Council.
Pavements on Dogs Head Street, Falcon Road, Silent Street and Lower Brook Street are being realigned, and lighting and street furniture added.
The roadworks will last until April and then work will begin at the bus station with new shelters and a ticket office installed.
Guy McGregor, the council's councillor for transport, said: "I'm really hoping that by summer the last of the works will be completed and we'll have a town centre that we can be proud of and then build upon that."
Other features of the scheme include adding a cycle lane to Silent Street and a night-time taxi rank and private hire area added to the bus station.
Dogs Head Street, Falcon Road and the top part of Silent Street will be closed to vehicles while the work is carried out, and buses will have alternative routes.
There will still be access for cars to the Buttermarket Shopping Centre car park.
Work on the Civic Drive/Franciscan Way roundabout, which began in September as part of the same Travel Ipswich project, is due to be completed in May.