St Edmund 'could be buried beneath tennis courts'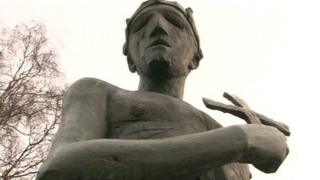 England's former patron saint could be buried under tennis courts in Bury St Edmunds, it has been claimed.
St Edmund is thought to have been captured and killed by Danish or Viking raiders in AD869, but it is not known where he was killed or buried.
Sarah Friswell, of St Edmundsbury Cathedral, said he could be found in a former monks' graveyard beneath tennis courts in the town's Abbey Gardens.
"It's possible that the bones are still here in Bury St Edmunds," she said.
Maldon in Essex and Hoxne in Suffolk have staked claims to be the place where St Edmund fell, and in the past it had been said his remains were in France or Westminster Cathedral.
St Edmund ruled the Anglo Saxon realm of East Anglia between AD855 and 869.
'Serious evidence'
Ms Friswell, who is also chairman of the Methodist Heritage Committee, said the case for the graveyard beneath Abbey Gardens is based on the reformation.
"Henry VIII didn't like the power and wealth of this abbey so sent his men here to desecrate it," she said.
"But the monks who were looking after the body of St Edmund would have known the men were coming to close the abbey down.
"It's possible that in the middle of the night they took the body out of the shrine and re-buried Edmund somewhere here.
"There may be a grave set aside, noticeably different, that of the king."
St Edmundsbury Borough Council leader John Griffiths said he would like a dig to happen, but would require "serious evidence".
"We have made a bid to improve various things in the Abbey Garden, which included relocating the tennis courts and undertaking an archaeological dig, but unfortunately the bid wasn't successful," he said.
"If we get some evidence, maybe we could submit it again."