Sizewell C station: Council offers conditional backing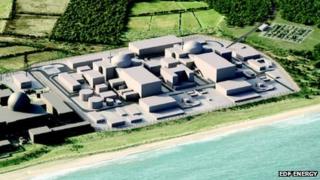 EDF Energy will have to make Suffolk an "even better place to live, work or play" for Suffolk Coastal District Council to back plans for Sizewell C.
The council's cabinet met on Tuesday night and offered its conditional support for plans for the new nuclear power station near Leiston.
It said the environment had to be protected, jobs created and infrastructure improved.
A public consultation on EDF's proposals ends on Wednesday.
Suffolk Coastal deputy leader Andy Smith said EDF had "a lot to do" to get the council's "unconditional backing or the support of all the communities that it will be becoming a key part of".
The coastal council and Suffolk County Council want EDF to fund transport improvements, including an A12 bypass, pay for community benefits including sports pitches and community halls and ensure there is the right housing in place for workers on the project.
Mr Smith said the power station would mean a "major investment in our district" and result in 900 permanent jobs.
EDF said about 25,000 'employment opportunities' would be created by the Sizewell C project, with 5,600 workers on site at the peak of construction.
Andrew Nunn, cabinet member for the environment, said EDF must "recognise its duty" to protect the surrounding Area of Outstanding Natural Beauty.
"We have to ensure that the unique landscape and ecology around Sizewell and beyond are not threatened by either the building or operation of a new power station," he said.
EDF is expected to hold a second consultation in 2014.
On Monday, Centrica withdrew from the UK's nuclear rebuilding programme because of increasing costs and delays.