Stowmarket chemical spills: PPG faces no further HSE action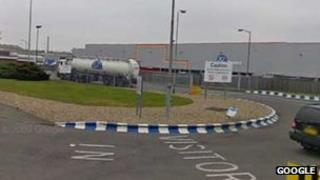 A Suffolk paint plant will not face prosecution over chemical spills which led to police advising neighbouring householders to stay indoors.
Two spills of hazardous liquids happened at the PPG Industries site in Stowmarket in January 2012.
The Health and Safety Executive said its investigation was complete and no further action would be taken.
The paint company said preventative measures had been put in place to try to prevent similar incidents.
The first spill happened on 12 January, but the second spill of about 130 gallons (500 litres) at the Needham Road plant on 15 January was larger.
The police closed off nearby roads and advised householders to stay indoors with their windows and doors shut, although the company said the move was purely precautionary.
The firm told the local community about the investigation at a meeting at a hotel on Thursday evening.
Pedro Perez, site manager for PPG, said: "We are a responsible operator and we have put in as many preventative actions as possible to make sure these kind of incidents never happen again.
"This emergency plan will be revisited, which is why we have these regular meetings with the community."