Aid To Hospitals Worldwide closes in Bury St Edmunds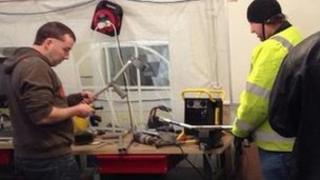 A Suffolk-based charity which sends old hospital kit to poorer countries is to close with the loss of seven jobs.
Aid To Hospitals Worldwide said it had exported 800 tonnes of re-conditioned equipment since it was set up in Bury St Edmunds ten years ago.
The charity collects items such as wheelchairs, beds and scanners from NHS hospitals.
The charity said hospitals are increasingly conserving their equipment for longer or sending it for auction.
The charity said it sent out £2.5m worth of equipment, but this dropped to £1m last year.
Mike Coleman, chief executive office of the charity, said: "The value of aid we were once able to recover to support projects abroad is now less viable set against rising shipping costs.
"It is with real sadness that we have taken this decision to close."
The charity said 50 volunteers, including many with mental health issues or learning disabilities, would also lose their work experience placements at their depot.
The charity is due to close next month.