Mystery shopping bags left on doorsteps in Aldeburgh, Leiston and Friston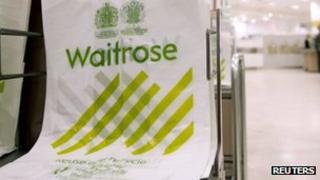 Carrier bags full of supermarket goods have been left anonymously on people's doorsteps on the Suffolk coast, creating a mystery for police.
Three bags were found by a householder in Friston on Friday, two more in Aldeburgh on Monday and another one in Leiston on Tuesday.
Suffolk Police is not treating it as suspicious, but they wanted to know if it was an act of charity or a prank.
They are appealing for anyone with information to come forward.
A police spokesperson said: "It's a bit of a mystery and although it's not thought to be anything sinister, we are asking the person or people who deposited them to get in touch.
"The bags don't appear to have been shoplifted, but somebody might have lost them or had them stolen and then they were dumped on random doorsteps."
The bags and their non-perishable items, some of which were from Waitrose, are being kept at Leiston police station.