Suffolk councils reduce workforce 'by up to 50%'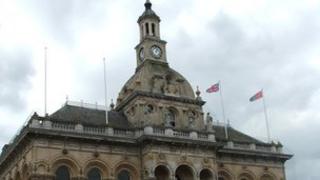 Suffolk's district councils have shed up to half of their workforces - about 1,750 posts - since 2005, a BBC Freedom of Information request has found.
Mid Suffolk saw the largest percentage loss in the seven-year period, with a 55% reduction, about 347 posts.
Waveney and Forest Heath had similar sized decreases, while St Edmundsbury had the smallest drop with 15%.
Suffolk County Council has also released figures showing its workforce halved between 2005 and 2013.
Some of the job losses involve workers transferring to private or community organisations, which have taken over the operation of services such as leisure centres.
Elsewhere, Waveney District Council has shared more services with neighbouring Suffolk Coastal District Council.
Colin Law, Conservative leader of Waveney, said: "We have shown there are other, and better ways, of delivering service.
"There have only been 49 compulsory redundancies and the rest have either been voluntary redundancies or people have been transferred across to partner organisations.
"The electorate would have wanted to see us slim down in a way that protected people's jobs and protected services on the front line."
Margaret Lynch, a regional manager with the public sector union Unison, said: "The government has savagely attacked budgets and it's going to affect councils' ability to provide front line services."