Rapist jailed for further sex assaults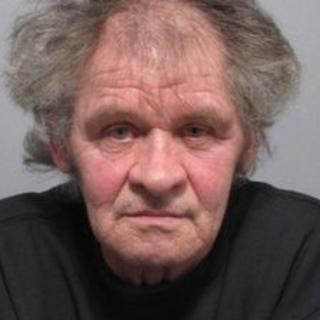 A man with a history of rape and other sex offences has been jailed for nine years for attacking a woman in Suffolk.
Hilland Matthews, 66, pleaded guilty to two sexual assaults carried out at the 53-year-old woman's bungalow in Ipswich in 2011.
Ipswich Crown Court heard that in 1992 he was sentenced to six years for raping an 89-year-old woman. He was also jailed in 1974 and 1980.
Suffolk police had not been informed Matthews had moved to Ipswich.
Matthews also admitted a charge of trespass with intent to commit a sexual offence.
Seventeen months after the Ipswich attack Matthews was tracked down through the DNA of a relative, the court heard.
Passing sentence, Judge David Goodin said it was beyond dispute that Matthews had targeted the premises and that the victim's "horror and terror" was "unimaginable".
The judge praised the woman's courage in fighting back and scratching her attacker's face, which enabled the police to collect a DNA sample.
Matthews was arrested after the sample was matched with a family member whose DNA had been collected for the national database.
Matthews, of Swallow Road, Ipswich, got into the bungalow through the back door while the woman was letting her dog out, the court heard.
He attacked the woman in her living room and again in her bedroom, where she thought she was "going to die", the prosecution said.
'Horrendous attack'
Suffolk Police said the earlier convictions in south Wales pre-dated the sex offenders register, so they had not been informed Matthews was living in Ipswich.
He was jailed for 18 months in 1974 for offences against a 17-year-old girl.
In 1980, he was jailed for four years for the attempted rape of another 17-year-old girl at a quarry.
After Thursday's sentencing, Det Insp Kevin Hayward from Suffolk Police said: "This was an horrendous attack on a lady living on her own and I think the sentence reflects the severity of that.
"The DNA database and sex offenders register didn't exist in 1992 and, from a reassurance point of view, there have been great advances in DNA technique and communication between forces since then."