Ipswich Cornhill: Sir Stuart Rose leads re-design bid process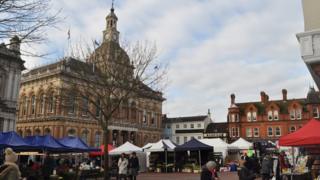 The former chairman of Marks & Spencer is leading a team asking architects to re-design the main town centre square in Ipswich.
Councils and businesses are tendering for bids to redevelop the Cornhill.
Sir Stuart Rose and his team expect to choose their favourite design later this year.
Ipswich Borough Council and Ipswich Central said the team would then put the funding together.
Sir Stuart, who lives near Ipswich and is leading the team in a voluntary capacity, said: "We live in a world where we have to constantly improve and change is an important part of that.
"I've made suggestions about making it a place where people want to come as opposed to need to come.
'Best retail brain'
"There aren't enough trees or places where you can sit on a bench and have we got the right number of public conveniences? Is it well lit and safe? That's what it's all about."
Market traders have said the Cornhill is the only open space in the town where a market can work.
David Ellesmere, the Labour leader of Ipswich Borough Council, said: "We need a strong and developing market and at the moment nobody is saying it has got to move.
"We hope that by summer we'll have four or five different designs, we'll make a decision towards the end of the year and then the hard work will begin as we start to pull the funding together to bring that dream into reality."
Paul Clement, chief executive of the business organisation Ipswich Central, said: "We've recruited Stuart Rose, who is probably the best retail brain in the country, and have an international competition for architects.
"We could have said 'how much money have we got?', but the minute you do that you start to constrain this process, but we are committed to getting the best and then we will sort it."
The team overseeing the architects' bidding process also included Suffolk County Council and University Campus Suffolk.