Chicken roundabout: New birds disappear from site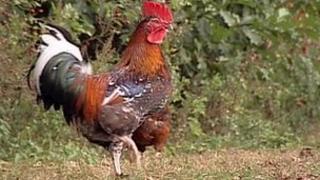 Five miniature chickens which were spotted at the weekend on a Norfolk roundabout, once well-known for its flock of poultry, have disappeared.
Two of the show birds were missing by Tuesday morning and that evening a member of the public removed the rest and re-homed them.
A RSPCA spokeswoman said they had been informed the birds are no longer there.
Jenny Cook, who used to help care for the chickens, said she had been "concerned" for their welfare.
"All five were ornamental chickens and couldn't get off the ground and the roundabout has no trees with low branches for them to escape from predators," she said.
"Someone rescued them and re-homed them and they have been taken to a safe home."
A flock of poultry lived at the site on the Norfolk-Suffolk border for several decades before the A143-B1332 roundabout was built.
It became known locally as the "chicken roundabout" and there were 300 birds on it at one time.
The birds were fed and looked after by Bungay resident Gordon Knowles for nearly 20 years.
He was helped in recent years by Jenny Cook, until the last half dozen of the birds were handed to an animal charity nearly three years ago.
In October a Facebook page was set up to campaign for a permanent memorial to the hens to be put up on the roundabout.