Suffolk dormice get Tiger Hill hedgerow 'corridor'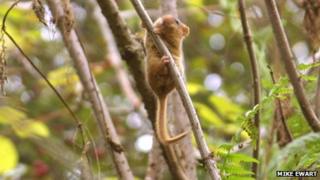 A 'hedgerow corridor' is being created to help Suffolk's dormice move between woodlands without touching the ground.
Wildlife volunteers are planting 600 hazel trees at Tiger Hill at Assington near Sudbury.
The Stour Valley said dormice numbers fluctuate rapidly and providing links for them to move around should encourage population growth.
Conservationists said the project was part of a wider biodiversity action plan for Essex and Suffolk.
Emma Black, project officer with the Dedham Vale Area Of Outstanding Natural Beauty (AONB) and Stour Valley Project, said: "Dormice need a hedge corridor above ground level, because they are aerial creatures who don't often set foot on the ground.
"We can then expand the populations of these endangered mammals which are part of the biodiversity of the countryside."
The project said numbers are hard to measure accurately, but they recorded about 20 dormice in wooden boxes at Tiger Hill three years' ago, but they have not recorded any there this year.
The hazel will form a 100m-long hedgerow helping to connect the nearby Arger Fen and Spouses Grove woodlands.