Taxi driver fined after Ipswich blind couple refused fare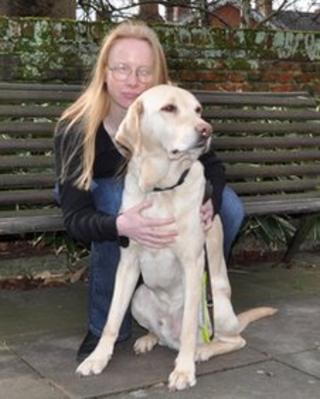 An Ipswich taxi driver has been fined for refusing to accept a blind couple and their guide dogs in his vehicle.
Metin Akin, of Coopers Close, Witnesham, pleaded guilty to refusing to transport Martin Roberts, Clare Burman and their two dogs across town last July.
Magistrates in Ipswich fined Akin £165 and ordered him to pay £1,233.50 costs.
The case was the first of its kind brought by Ipswich Borough Council which licenses local taxis.
The couple ordered a cab from Ipswich Taxis on a Sunday afternoon and phoned the office when it did not turn up.
They said they were initially told by the operator that the driver who had been allocated to them did not want dogs on his leather seats.
'Humiliated'
Ms Burman, 32, said: "I makes me feel anxious and nervous when I use these services, because I never know what sort of a reception I'll get.
"Guide dogs do not go on seats. If they can't go in the boot they will go in the foot well.
"We want to send out the message that you can't get away with that. It's not our fault that we have to travel with an assistance dog."
Mr Roberts, 35, said: "I wasn't happy with the situation. It makes you feel a little humiliated and like a second-class citizen.
"Drivers can't do this because, unless they have a proven medical certificate for an allergy, it's against the law."
The couple, and their dogs Malone and Vikki, were eventually sent another driver and they said they continue to use Ipswich Cabs.
The council brought the charges under the Equality Act 2010.
A spokesman for the council said: "We cannot allow anyone to infect the relationship between drivers and their passengers whether those passengers are disabled, from an ethnic minority, of a different faith or for any other discriminatory reason."