Suffolk Police's new chief constable 'should make morale a priority'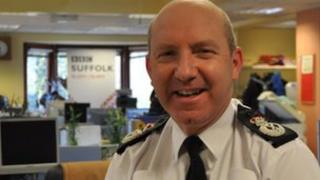 Suffolk's new police chief constable should make force morale a priority, the rank and file officers' organisation said.
Chief Constable Douglas Paxton is beginning his first week in the job.
The Police Federation said £17.7m budget cuts covering 2011-2014 had affected officers' morale.
Mr Paxton said there would be a two-year period of stability with no further savings to be made and he would meet the federation this week.
In 2011, Suffolk Police announced it had to make 20% savings to its £130m annual budget, resulting in the loss of the equivalent of 100 uniformed and 200 non-uniformed staff.
Mick Richardson, general secretary of the Police Federation in Suffolk, said: "One of the main priorities is morale which is probably as low as I've ever known it with the budget cuts and forced retirements front-loaded into the first two years of a four-year cuts programme.
"Locally, Mr Paxton can work with the police and crime commissioner to make sure we have the right equipment and that the budgets are there to maintain the minimum number of 1,200 officers and improve on that if possible."
Mr Paxton said morale was an issue he was aware of, and there would be no further cuts announcements for two years.
"When pension changes or a public sector pay freeze is delivered [at a national level], there's nothing I can do about it, but let's deal with stuff we can deal with.
"On the point of morale, staff would ask us not to do things by surprise and at short notice, because that's the thing that's most distressing for people.
"If we've got a couple of years of stability, let's start planning and the most important thing to say is that if I didn't think it was do-able, I would have gone elsewhere."