Tesco allowed to convert The Emperor pub, Ipswich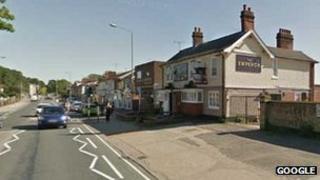 Tesco has been granted permission to turn a Suffolk pub into a convenience store, despite local community protests.
The supermarket is to move into The Emperor on Norwich Road in Ipswich, which is owned by Punch Taverns.
The Friends of The Emperor group formed to oppose the move.
Ipswich Borough Council said it did not have planning grounds to oppose the plan, because Tesco did not need change-of-use permission.
Rebecca Moss, from Friends of The Emperor, said: "It's very sad news for west Ipswich.
"I'm stunned because we felt it could still work as a pub if managed properly, as it has been recently, and we're angry at Punch for doing it.
No longer 'viable'
"We think there will be issues as there is a lot of crossing and turning traffic on this stretch of Norwich Road."
A spokesperson for Punch Taverns said: "We review our estate on a regular basis and explore the options around the future of sites that are no longer commercially viable for us and may better fulfil their potential for the local community under different ownership.
"We are aware that the future of the Emperor has generated local interest, but we are not in the position to comment any further."
Ipswich Borough Council's planning committee voted to approve an extension and car parking for Tesco.
Councillor Peter Gardiner, committee vice chairman, said: "On the advice of planning officers there were no valid planning reasons to turn down the application.
"There were objections to the loss of the pub, but if we have to pay the costs of a successful appeal by Tesco, that would have to be borne by council taxpayers.
"We were convinced traffic could be controlled and have placed restrictions on the size of vehicles and delivery times."
A Tesco spokesman said: "We look forward to working with the local community in the months ahead to deliver a store they can be rightly proud of."