Red Rose Chain's forest theatre moves to Jimmy's Farm this summer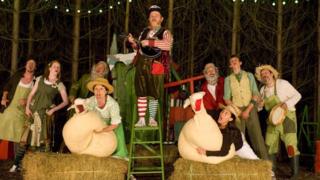 A Suffolk forest theatre production, which attracts audiences of 10,000 each summer, is moving to a pig farm.
Red Rose Chain, which has staged Shakespeare in Rendlesham Forest for 13 years, is moving to Jimmy's Farm near Ipswich this August.
The theatre company said it was going into partnership with the TV presenter Jimmy Doherty to offer better catering and refreshments.
It is staging The Taming Of The Shrew from 23 July to 25 August.
The company has created an open-air venue in a clearing in Rendlesham Forest since 2000, catering to local people and holiday-makers near the Suffolk coast.
The production will now be at Jimmy's Farm at Wherstead for the next five years and Red Rose hopes to attract 12,000 visitors to its 25 performances.
Holiday market
Artistic director Joanna Carrick said: "We've got a strong following and a lot of holiday-makers come from London, so they can still make Red Rose part of their journey.
"There were issues over the amount of time we've got in the forest beyond 2014, so this gives us more security.
"It provides us with an opportunity for better refreshment facilities and it's in a larger catchment area between Ipswich and Colchester."
Mr Doherty said: "We are so excited to be partnering Red Rose Chain in what we know will be a magical theatre experience in our woods.
"Who knows what future productions might be - Animal Farm or maybe even Babe: Pig In The City?"