Lowestoft fishing trawler the Mincarlo to re-open to the public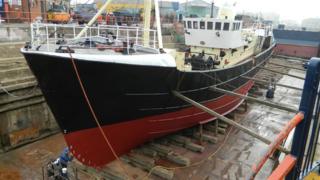 A Lowestoft fishing trawler is to re-open to the public this summer after a successful recruitment of volunteers.
The charitable trust which owns The Mincarlo said it was the last trawler to be built in the town, in 1962, with a locally-manufactured engine.
The vessel will be open for two days a week from late May.
The trust said it needs to raise £200,000 funding to make it seaworthy and turn it into a floating museum.
The Mincarlo was built by Brooke Marine in Lowestoft, fitted with an engine made by AK Diesels.
The 120 ton (110 tonne) sidewinder trawler would spend upwards of a week at a time in the North Sea catching cod, plaice and haddock, initially for local fishing family WH Podd, but it last sailed in the late 1980s.
The Mincarlo has spent 18 months in dry dock at Small & Co's yard in Lowestoft where its hull and engines were surveyed.
The Lydia Eva & Mincarlo Charitable Trust said the funding is needed to give it a full restoration and turn it in to a museum with interactive displays.
Mr Bagley said: "Getting this vessel out sea again would chuff me to bits as these trawlers stopped sailing out of Lowestoft for work over a decade ago and it would be a fantastic sight."