West Suffolk Hospital fined after patient fell from window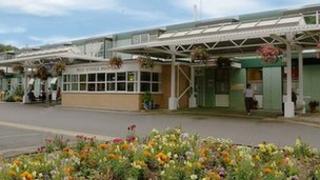 A Suffolk hospital has been fined after a patient broke her spine falling from a first floor window.
The accident happened when the 50-year-old climbed out of the window at the West Suffolk Hospital in Bury St Edmunds in September 2011.
The hospital was fined £10,000 by magistrates in Bury after admitting health and safety offences.
The patient, who fell 10ft (3m), is unable to work and is due to have further spinal surgery next week.
The Health & Safety Executive (HSE), which brought the prosecution, said the patient was in an apparent state of confusion when she used a chair to fully open a bay window which she then climbed out of.
She fell onto bushes, which partly cushioned her fall, and had to be transferred to Addenbrookes in Cambridge for treatment to broken vertebrae and a punctured lung.
Restrictors fitted
The HSE said its investigation found the hospital's arrangements for managing the risk of patients falling from windows were inadequate and that no restrictor was fitted to the window in question.
Nicola Jaynes, HSE inspector, said: "Fitting window restrictors is a simple, inexpensive job that is proven to save lives.
"Falls from unrestricted or inadequately restricted windows are not uncommon in the healthcare sector and sadly there have been at least a dozen fatalities in recent years."
A West Suffolk Hospital spokesman said: "Following this incident, we undertook immediate action to fit restrictors to every hospital window.
"We also commissioned a detailed investigation of the incident, the recommendations of which have resulted in changes in our systems in order to prevent future, similar incidents.
"We sincerely apologise to the patient concerned."
The hospital was also ordered to pay £1,420 costs by magistrates.