Luke Durbin murder inquiry: Two men released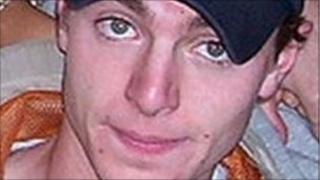 Two men arrested in connection with the disappearance of Suffolk teenager Luke Durbin face no further police action.
A 41-year-old man, arrested on suspicion of murder, and a 26-year-old man, arrested for being "concerned in the murder" of Mr Durbin, have had their bail cancelled.
Mr Durbin, from Hollesley, was 19 years old when he failed to return home after a night out in Ipswich in 2006.
Suffolk Police said officers remained "determined" to find out what happened.
Det Supt John Brocklebank said: "Our enquiries are continuing and even almost seven years after he disappeared we are still receiving information about Luke, which we are following up and piecing together."
Mr Durbin had spent the evening of Thursday 11 May 2006 through to the early hours of the next day with friends in Ipswich.
CCTV footage showed Mr Durbin and a friend approaching a taxi at Cardinal Park, Ipswich, just after midnight.
At 04:00 BST, CCTV footage showed he was on Dog's Head Street in Ipswich.
A witness also reported seeing Mr Durbin in a dark blue Renault Megane near the Turban Centre, Woodbridge, between 11:00 and 14:00 BST on 13 May.
His mother Nicki Durbin reported him missing on the same day.