Sudbury's Chilton Woods housing plans withdrawn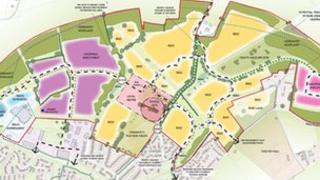 A proposal for more than 1,000 homes in Suffolk has been withdrawn by developers.
Redrow had carried out a public consultation and drawn up draft plans for the 329-acre (133-hectare) site at Chilton Woods, Sudbury.
It has refused to comment on the reason for its withdrawal.
Suffolk County Council said: "As landowners, we remain committed to seeing development on the Chilton Woods site."
It added: "We believe that development is viable there and will continue to pursue that end."
The council said Redrow carried out a consultation last summer and was in the process of putting together an outline planning application, but no application was ever submitted.
The site has been earmarked for development for several years, but Redrow has now become the second firm to pull out of the scheme.
A draft masterplan had been drawn up and featured housing, schools, playing fields, a community centre and employment areas.
Peter Clifford, chairman of Chilton Parish Council, said he was "surprised" at the news and the developer had a "good relationship with residents" and was "within inches of drawing up a masterplan".