Lowestoft burglary: Men convicted of 'vicious' attack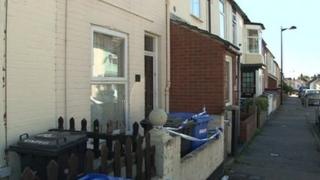 A man has been convicted of a "vicious" aggravated burglary which left two women with serious injuries at their home in Suffolk.
Leslie Colvin and Alan Harwood, both of Lowestoft, forced their way into a house in Cambridge Road in August.
Colvin, 31, denied aggravated burglary and two counts of GBH and was convicted by a jury at Ipswich Crown Court.
He and 30-year-old Harwood, who admitted the charges, are due to be sentenced at a later date.
Speaking after the hearing, Suffolk Police said Colvin, of London Road South, and Harwood, of High Street, broke the door down at about 02:35 GMT on 27 August.
One was wearing a black balaclava and the other had a pillow case over his head.
One victim, 47, was repeatedly struck around the head and left with a fractured skull and bleeding on the brain. The other, aged 28, was repeatedly hit with a crowbar.
Gold jewellery and a handbag were handed over before both men left via the front door.
Det Ch Insp Steve Mattin said: "This was a nasty and vicious attack in the early hours of the morning on two defenceless women in their own home.
"While the incident was not random, it was shocking in its severity and it is only due to luck and the skill of medical staff that the 47-year-old woman survived."