Ipswich war veteran's five hour hospital wait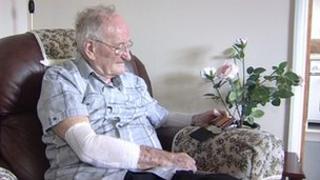 A 94-year-old war veteran's family says he was left unseen by Ipswich Hospital doctors for five hours after gashing his head in a fall at home.
Rod Gray, from Ipswich, was patched up on arrival, but after he was not seen again, his family took him home.
Relatives said he was left in a waiting area with his pyjamas covered in blood and was not treated with dignity.
The hospital said it was "exceptionally" busy on Friday evening, but it would be investigating.
Ipswich Hospital was criticised in a Care Quality Commission report for standards of patient dignity in 2011, but it passed the inspectors' checks in 2012.
Mr Gray, who was admitted on Friday, said: "I was getting really tired, miserable and wanting to get home.
'Humiliated'
"No-one asked if I was comfortable and people my age should get more consideration."
Mr Gray served with the Suffolk Regiment in Burma during World War II.
Carl Puiy, Mr Gray's stepson, said: "He felt humiliated because he was in a public area with other people wearing their clothes while he was in his pyjamas which were bloodstained.
"It was extremely busy and we understand that, but he was so uncomfortable sitting in a wheelchair for five hours with an injury and needing the toilet, so we took him home.
"Surely, a 94-year-old with a head injury deserves to see a doctor within five hours?"
Mr Gray has since been treated by his GP.
'Clinical priority'
Jan Ingle, hospital spokesperson, said: "We haven't heard from the patient or the family and we need to investigate.
"We don't want anybody to wait longer than is absolutely necessary, but Friday evening was exceptionally busy.
"Clinical priority means that other people who were emergency and very urgent cases were seen before him, which is why he had to wait."
She added that Mr Gray was initially placed in a private treatment area but was moved into a general waiting area after a full scale emergency came into the casualty department.
Katherine Murphy, chief executive from the Patients Association charity, said: "Whilst we accept that accident and emergency departments have to prioritise, there is no excuse for allowing a 94-year-old gentleman to be treated in such an undignified and unprofessional manner.
"The hospital needs to make sure that dignity, compassion and care of our most vulnerable is the main priority."