Ipswich Hospital nurses offered £50 vouchers for weekends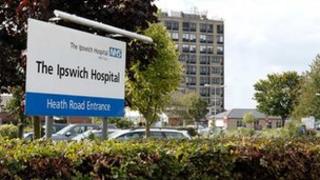 Nurses at a Suffolk hospital have been offered £50 in shopping vouchers to work extra weekend shifts.
Ipswich Hospital needed nurses to cover 100 shifts due to staff absences last weekend.
Marks and Spencer vouchers were used as an incentive, so the cost could be up to £5,000.
The hospital said it was to cope with additional capacity, while a nursing union said it would rather staff were paid overtime.
The hospital, which employs 1,700 nursing staff, described the vouchers as a "thank you" to health workers after a busy winter.
The bonus would be given to staff on top of their normal weekend shift pay, which would vary depending on what other shifts they had done that week.
'Incentive'
Catherine Morgan, the hospital's deputy director of nursing, said: "We knew we were going into a weekend that would be extremely busy and we wanted to make sure staffing was as safe as possible.
"It was an incentive for anyone who did want to do an additional minimum of six hours.
"We don't have underlying staffing issues, but during busy times we will have a requirement for additional staff."
The Royal College of Nursing (RCN) union said vouchers were becoming an "increasingly common" cheaper alternative to hiring agency staff from outside the hospital.
Karen Webb, RCN regional director, said: "We've got a lack of district nurses and community services in Suffolk which means there's an increase in 'escalation beds' in hospitals.
"In order to staff those beds safely they're drawing on the goodwill of their ordinary staff to come in and work these extra shifts.
"I would like them to pay overtime rates, but if the alternative is bringing in agency nurses who don't know the hospital and patients, then I would much rather they used regular staff who are willing to work a few extra hours."