Lowestoft Prospectus transport blueprint criticised by ex-MP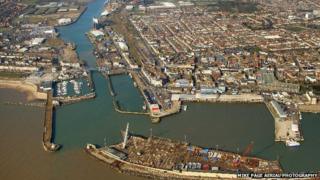 A transport blueprint for Lowestoft has been criticised for not focussing on creating a third water crossing.
Local authorities and partners are behind the Lowestoft Prospectus, which includes an objective to replace the harbour's bascule bridge.
Its authors said the plan will provide a platform to bid for funding for that and other transport projects.
Bob Blizzard, the town's former Labour MP, said it "lacks focus" on the need for a third harbour bridge.
The prospectus has been produced by Waveney District Council and includes a proposal to replace the bascule bridge at the harbour entrance with another crossing further inland.
The existing single-carriageway bridge has been criticised for not being able to cope with the volume of traffic crossing it and for limiting the size of boats that can enter the harbour underneath it.
'Nonsensical'
The prospectus also aims to improve Oulton Broad North Station's level crossing to reduce congestion.
Councillor Colin Law, Conservative leader of the council, said: "This document shows commitment, along with stakeholders and partners, to work together to improve the infrastructure.
"The options provide us with a real opportunity to explore that which is best for Lowestoft and Waveney."
Mr Blizzard, who is Labour's prospective parliamentary candidate for Waveney, said: "It lacks focus and one or two bits are nonsensical.
"Lowestoft needs a third water crossing - any blueprint should be absolutely focussed on that and in this plan it's more or less booted into the long grass.
"There's no commitment to promote it or to go after it."
Lowestoft and Waveney Chamber of Commerce is part of the steering group which aims to develop the proposals.
James Reeder, chamber chairman, said: "We've still got to see how much money there will be for infrastructure from the government.
"This is everybody working together to get a plan going forward to get bids for funding ready.
"A third crossing is certainly not being eliminated by the prospectus, but there are a lot of things that we could make immediate gains on such as improving traffic around Oulton Broad North Station."