University Campus Suffolk prepares to award own degrees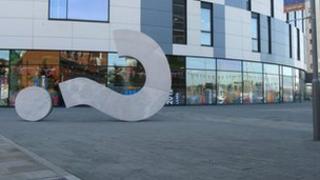 Suffolk's only university campus wants be able to give out its own degrees within three years.
University Campus Suffolk (UCS), on Ipswich waterfront, can only award degrees that are jointly validated by the University of East Anglia (UEA) and the University of Essex.
The UCS board has voted to gain independence from them.
It said it would represent a full maturing of the college which opened in 2007.
Professor Mike Saks, provost at UCS, said: "The existing students get a good certificate from two world-class universities, but when an institution matures in terms of employment, quality and national student surveys, then the time comes to strike out for independence.
"It's been a rapid rise and we've achieved some major successes with 90% of students going on to employment or further study within six months of graduating, which is extraordinary.
Student growth
"Becoming independent will give us more opportunity to call on funds from the Higher Education Funding Council, recruit more international students and serve Suffolk and the region much better."
UCS opened in 2007 with 2,000 students and has 5,500 this year.
It has to apply for permission from the Quality Assurance Agency for Higher Education to award its own degrees and from the Privy Council to become an independent university.
UCS expects it would be summer 2015 at the earliest before the process would be completed.