Suffolk abuse victim rejects £1,000 compensation sum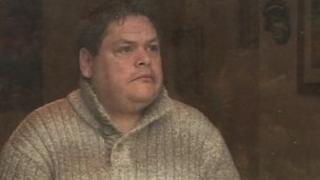 A man who was abused at a Suffolk care home has rejected the ombudsman's suggestion of £1,000 in compensation.
Lawrence McLean, 38, was abused at the former Four Elms children's home near Eye where he was placed by Suffolk County Council in 1983.
The Local Government Ombudsman's report said the council should pay £1,000 and apologise to Mr McLean.
Mr McLean said it was not enough, while the council said it was still in discussions with the ombudsman.
Mr McLean said he was abused by staff at the children's home at Stonham Parva, which has since closed and is now a different children's home.
Victor Copperman and Thea Trevelyan, who ran Four Elms, were shot dead in 1987 by a woman who believed her daughter was abused there.
'Outrage and uncertainty'
The ombudsman previously suggested Mr McLean should be paid £6,500, but the council rejected that figure and instead offered to pay £200.
The ombudsman's latest report said the county council should pay him £1,000 "for the outrage and uncertainty caused to Mr X [Lawrence McLean] by the council's actions" of placing him at Four Elms.
The report also said the council "should apologise in writing to Mr X".
Mr McLean, who claimed the childhood abuse led him into a life of childhood prostitution and crime, said: "I've looked at other cases of abuse and some of these people are getting £40,000-70,000 and somebody's offering £1,000 - I don't get that."
A council spokesperson said: "This is still an open case being investigated by the Local Government Ombudsman and we are in active discussion with his office."
In 2010, the council's own investigation found there was "a substantial body of recording of the view by professionals that Lawrence McLean had been psychologically and sexually abused during the period of his residence at Four Elms."