Lowestoft College buildings 'saved' with £2.8m grant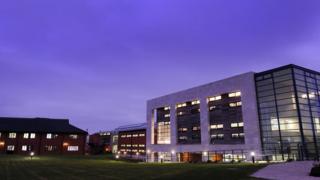 Buildings at a college in Suffolk could have been pulled down had it not been for a £2.8m government grant, a vice principal has said.
Teresa Miller said the cash, part of £214m for 47 colleges in England, was "vital" for Lowestoft College's future.
A tower block built in the 1960s will be renovated as part of the project.
"If we don't do it, the actual fabric of some of our buildings will become so poor that we may well have to move out of them and pull them down," she said.
The money from the Department for Business, Innovation and Skills will go towards a £3.9m renovation. The rest of the funding is from Lowestoft College's reserves.
Other work at the college, which has about 6,000 students, includes upgrading the hair and beauty accommodation, classroom improvements, new windows and cladding.
"We're delighted because without it we couldn't have done some of the work we will now do," Ms Miller said.
She said the windows and cladding of the six storey tower block were "particularly bad".
"We were getting to the stage where we would possibly have to scaffold and net for safety," she said.
"This is money that is really vital and will really help us make the facilities much better for everybody - they'll be warmer for a start."
Work is due to begin next week and could be finished by September 2015.