Felixstowe's Spa Pavilion redevelopment limits to be set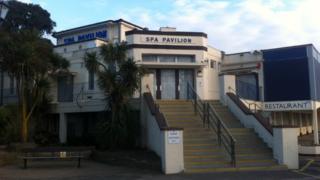 The owners of a disused Suffolk theatre say they will draw up more precise plans to better inform developers how it could be used in the future.
Suffolk Coastal District Council stopped subsidising the Felixstowe Spa Pavilion in January.
The council said a suitable buyer has yet to be found.
The venue opened in 1909, but closed when the Conservative-run council decided it could no longer afford to spend £250,000 on running it.
The council appointed Jones Lang LaSalle to market the building last year with the only condition being that any development should add 'cultural and tourist' value to the town.
Permissible development
Earlier this year, two local groups had their proposals for the building rejected as financially unviable.
Councillor Geoff Holdcroft, cabinet member for leisure, said: "We're going to go back to the market in a couple of months and say 'this is what acceptable development may look like'.
"It's not going to be houses or office blocks. We just need a positive statement about what we would like to see there as a mixed-use business.
"We will ask if it's permissible to put another storey on the building and I'll come back in a couple of months to defend what we've come up with."
Mr Holdcroft had previously said that demolition may be an option for the building, which is not listed.
Lisa Hardy, from the Spa Pavilion Associates, the community group which had its proposal for the venue turned down, said: "The interesting word was 'defend', so I'm not entirely sure what they're planning.
"They still appeared to want the cultural value added to, so that is fairly positive."