Brandon upgraded level crossing 'frustrates' business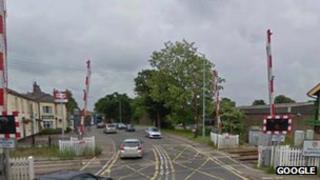 Business leaders in a Suffolk town say they are frustrated by the number of problems there have been with the town's level crossing since an upgrade.
The crossing on the A1065 Mundford Road at Brandon was changed from a manual to an automated crossing last year.
Since then the barriers have been stuck in the "down" position at least 10 times for up to eight hours, according to residents.
Network Rail said there had been "teething problems" with the crossing.
Giles de Lotbiniere is the managing director of Lignacite, a company which has its building close to the level crossing.
He said that since crossing was upgraded last August there had been several occasions when the barriers had stayed down for several hours.
"That means that lorries going out, and in particular coming in, have a major problem accessing our site."
Taxi driver Gary Brocklehurst said that two months ago the crossing was closed for seven hours and for three hours last week.
"Brandon was gridlocked," he said.
"It would be nice to say go back to the man in the signal box but we all know technology moves on and when things are settling in there are going to be faults.
"But these faults need to be addressed and they need to be addressed quite quickly."
Richard Schofield, Network Rail route managing director, said new technology used radar to detect whether any people or cars were on the crossing before the barriers were lowered.
"It's that technology that we've struggled with," he said.
"It's been oversensitive and it's been finding things that haven't really existed... telling the system that there's something there."