St Nicholas and St Elizabeth hospices share £1m grant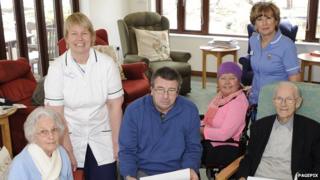 Two hospices in Suffolk will benefit from more than £1m funding from the Department of Health.
St Nicholas Hospice will spend its £326,488 on turning the Burton Centre, in Haverhill, into a community outreach centre.
In Ipswich, St Elizabeth Hospice will use its £678,482 to improve the day unit at its Foxhall Road hospice.
Chief executive Jane Petit said: "The money will enable us to improve the environment for patients."
The independent charity, which provides services free of charge in East Suffolk and South Norfolk, says its annual running costs are £8.7m.
'Growing need'
In Haverhill, St Nicholas Hospice's new look Burton Centre will include clinics, counselling, complementary therapies and a drop-in centre for patients and their families.
It follows St Edmundsbury Borough Council's decision to approve the plans.
Barbara Gale, chief executive of the hospice said: "Our development of the Burton Centre will be the first hospice outreach centre in west Suffolk.
"We have chosen Haverhill because of the large population and its growing need for more services for those at the end of their lives and in response to local requests."
Proposals include counselling and therapy rooms on the first floor.
Planned services include bereavement support, advice, medical and nurse clinics, complementary therapies, faith networks, group support for patients and carers and a drop-in centre.
The Burton Centre currently houses a public library and cafe, which the hospice said would both continue to operate in one half of the building.
The hospice also plans to work in partnership with local health and social care organisations.