Newmarket clock winder replaced by technology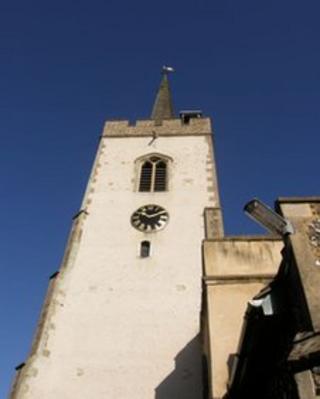 The winding mechanism of a church clock in Suffolk is to be electrified after being wound by hand for 130 years.
Richard Card currently spends 20 minutes every Saturday winding up the clock of St Mary's Church, Newmarket.
Mr Card said the parochial church council, which administers the church, decided climbing to the Victorian clock was too much for the 66-year-old.
The £4,636 automatic mechanism from specialist engineers Smith of Derby will replace Mr Card by May.
'Old-fashioned mangle'
Mr Card has been responsible for winding the clock, which dates to 1880, for nearly three years.
He said: "The parochial church council (PCC) felt that it was too much for me to continue to climb a tight, spiral staircase, with over 100 stairs, every week."
Once there, he has to wind two separate mechanisms.
"The chimes take about 180 turns and the clock is 80 turns," he said.
"It's like turning an old-fashioned mangle until you bring the weights up to a specified level - and then you stop."
The PCC has received permission to electrify the mechanism from the Diocese of St Edmundsbury and Ipswich.
Mr Card said he would continue to visit the clock about once a fortnight.
"It sometimes skips a beat, so it can be ten minutes fast, or a couple of minutes slow," he added.
"I'll always keep an eye on it."