Bury St Edmunds recycler does away with landfill bin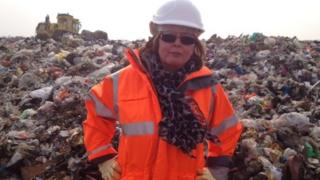 It began as a personal challenge to see if a life without landfill was possible.
Karen Cannard, of Bury St Edmunds, almost managed it - but for a single plaster she threw away after cutting herself.
Mrs Cannard is now challenging others to try the "rubbish diet".
Before mother-of-two Mrs Cannard, 44, began her life without landfill, she was putting out a regular wheelie bin full of rubbish each fortnight.
Now, she puts out between one and four carrier bags of landfill waste each month.
Although she admits she could not live without producing any non-recyclable waste forever, she said a big difference could be made by forward planning.
'Hit list'
"It was actually quite easy by using my bin as a research station," she said. "Identifying what goes in and then creating a hit list and changing your shopping habits."
Mandy Leathers has also got rid of her wheelie bin for landfill waste - though admits to using street bins.
Ms Leathers, 47, who lives with her son in Bury, said: "I wouldn't want to live near a landfill site, so if you're going to put it in a bin anyway, you might as well put it in the right bin.
"If it's not plastic that can be recycled then I won't buy it, I'm a vegetarian with no meat waste and any food waste goes to my dog.
"I do take crisp packets and sweet wrappers to a street bin, so it's a bit of a cheat, but I haven't got room for a black bin anyway."
The pair's local authority - St Edmundsbury Borough Council - said its recycling rates for household waste had gone up from 50.05% (2007-8) to 52.3% (2011-12).
The council said the total amount of household waste had gone down from 50,873 tonnes to 45,457 tonnes over the same period.
Mark Walsh, the council's head of waste management, said: "Karen's entertaining personal quest to translate the big message into everyday life is the vital link we all need to make."
BBC Radio Suffolk is backing the Rubbish Diet Challenge for a three-month campaign starting on Monday, 15 April.