Five accused over escort site scam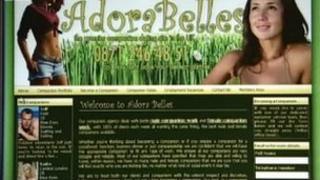 Five people, including a former police officer, have gone on trial accused of conning people out of £5.7m in an internet escort agency and debt scam.
Applicants were attracted by the promise of earning £600 a day to act as companions in "non-sexual" dates, Ipswich Crown Court heard.
Respondents paid an upfront fee of more than £300 but the dates did not happen.
The five people on trial deny two counts of conspiracy to defraud and various charges of money laundering.
The man behind the scam, Toni Muldoon, ran a string of bogus companies from Spain and has already pleaded guilty to two charges of conspiracy to defraud.
The jury heard millions of pounds were transferred from the UK to bank accounts in Spain.
Prosecutor Nic Lobbenberg said Muldoon was "at the helm of the conspiracy" and received huge amounts which he spent on expensive luxury villas and boats.
A series of escort agency websites were set up using names including Beautiful Adults, European Escorts and AdoraBelles, the court heard.
Fees were then transferred through a network of false companies in the UK.
Mr Lobbenberg told the jury the scam was run from call centres in Spain and Turkey.
People were told they had a date and were then asked to pay the upfront fees. The dates were cancelled and they did not get the money back.
'Very desperate'
"These cases involve the advance fee fraud," Mr Lobbenberg said. "You pay something upfront for something you never get. It was a complete scam."
The jury heard that the "conspirators" also ran a debt scam in which they cold-called people from Spain.
"People who were caught by this fraud were people who were very desperate," Mr Lobbenberg said.
"They had vast credit card debts. They were persuaded to put more money on their credit cards to get rid of debt.
"This fraud is about promising debt elimination that simply does not exist."
Colin Samuels, 61, from Redgrave, Suffolk, is alleged to be the "front man" who allowed his bank account to be used to launder money.
Mark Bell, 41, of Westerfield, Suffolk, is alleged to be Muldoon's UK partner. He is said to have helped recruit directors to bogus companies and provided the telephone lines to the Spanish call centre.
Christopher Taylor, 57, from Wakefield, West Yorkshire, was a former detective with West Yorkshire Police.
He is alleged to have allowed his company bank account, First Direct Recovery Ltd, to be used to launder criminal proceeds of the fraud.
The prosecution said Bradley Rogers, 29, from Malaga, was Muldoon's lieutenant who received £750,000 into his account.
He chose the names for the websites and booked adverts in papers such as the Daily Star, the court heard.
Geraldine French, 60, who lived in Spain and also has links in Suffolk, was, the prosecution said, the money person who acted as the administrator and was "at the forefront of the deception".
Opening the prosecution case, the jury heard that the defendants, who deny a total of 13 charges between them, "believed they were engaged in legitimate, honest business".
"The Crown say they were conducting frauds."
The case is expected to last eight weeks.