Mid Suffolk District Council rejects 'Hakluyt' village street name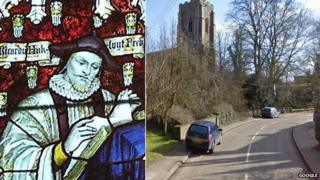 A village's "founding father" is unlikely to have a street named after him because his name has been considered too difficult to pronounce.
Writer Richard Hakluyt, pronounced 'hack-loot', founded Wetheringsett-cum-Brockford in the 16th Century.
The parish council hoped to name a new road Hakluyt Close. But Mid Suffolk District Council fears the name is "confusing" and could "waste time".
A decision is due to be made at a council meeting next week.
The authority believes most people will not realise how to accurately pronounce Hakluyt.
A council spokesman said: "When naming streets, Mid Suffolk tries to follow national guidelines - one of which stipulates that names should be unambiguous to pronounce or spell.
"Like the developer, whilst we appreciate the historical associations we feel that 'Hakluyt Close', doesn't follow these guidelines and may make it harder to market the development as well as wasting time in an emergency and causing confusion for deliveries.
"We feel that 'Jubilee Lane' is better for these reasons."
He also said the parish council was appealing against our decision and that appeal was going to the community policy panel on 16 April when it will be decided whether to call the street Hakluyt Close or Jubilee Lane.
No-one from Wetheringsett-cum-Brockford Parish Council has been available for comment.