Walton bus driver 'ordered mother and crying child off bus'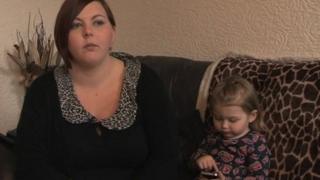 A bus driver accused of ordering a mother and toddler off his vehicle because the child was crying is facing disciplinary action.
Paryss Walter, 22, said she and daughter, Lillie, two, were told to get off the route 76 First bus in Walton, near Felixstowe, Suffolk.
Ms Walter had a 10 minute walk home and said she felt "humiliated".
First confirmed it had received a complaint and said a disciplinary process was "ongoing".
A spokesman said: "We received a complaint from this customer, regarding inappropriate behaviour from a driver on our 76 service.
Disabled mother
"The driver has been identified and the disciplinary process is still ongoing.
"First take allegations of this nature extremely seriously, and the driver in question will be dealt with according to our company policy."
Shop assistant Ms Walter said she had been to visit her disabled mother in Old Felixstowe when the incident happened at about 17:50 GMT on 19 February.
She said her daughter began screaming and crying intermittently during the journey and claimed the driver ordered her off the bus one stop before she had planned, in High Street, Walton.
"He said that he had a headache and told us to get off the bus," she said.
"Other passengers were all telling me to stay on the bus. He got more and more angry. I was absolutely humiliated."
Ms Walter said after her complaint she received a letter from First, dated 21 March, referring to the "unacceptable behaviour" she had "encountered from one of our drivers".
It added: "I am sorry you received such a poor level of customer service from our driver."