'Hakluyt' village street name approved for Wetheringsett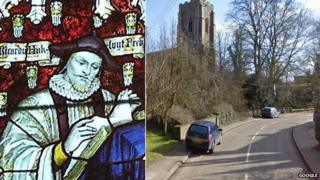 A Suffolk village will be allowed to name a new street after its 16th Century founder father, despite fears his name was too hard to pronounce.
Wetheringsett-cum-Brockford Parish Council wanted to name a road Hakluyt Close after the explorer Richard Hakluyt.
Mid Suffolk District Council argued it could be confusing for emergency services and favoured Jubilee Lane.
However, the district's community policy panel has now voted for Hakluyt.
Hakluyt was a traveller, geography lecturer and scholar and later rector of Wetheringsett.
Mid Suffolk District Council argued that national guidelines on naming roads stipulated that names should be unambiguous to pronounce or spell.
'Individual approach'
Martin Lawrence, chairman of the parish council, said he was "very pleased" with Mid Suffolk's decision.
"We would like to commemorate a man who made a significant contribution to learning," he said.
"There are alternative pronunciations of his name but this is not uncommon in our language.
"There are no other streets called Hakluyt in the UK - we would like to think that this represents a more individual approach."
Elizabeth Gibson-Harries, chairwoman of Mid Suffolk's community policy panel, said: "Even the Hakluyt Society on its website says there are several pronunciations of the word.
"The panel thought the views of the parish should be uppermost and the potential problems for emergency services could be overcome.
"It should be one happy parish."