RAF Lakenheath jet flights reduced due to US defence cuts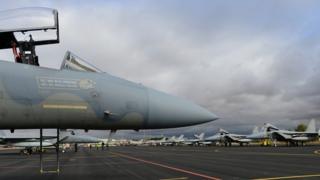 Planes are to be grounded and fewer flights will be made from a Suffolk airbase as a result of cuts in American defence spending.
About 75 F-15 jets are based at RAF Lakenheath and currently fly for a total of 20,000 hours a year.
A spokesperson said details of the cuts, which will be in operation until at least October, were not yet known.
The US Air Force began grounding about a third of its combat aircraft, last week.
Its budget for the fiscal year ending in October is being reduced by $591m (£386m).
The 48th Fighter Wing said only airmen who were preparing to be deployed in support of current operations would be flight-trained.
The spokesperson said: "Personnel will continue ground training as well, which includes flight simulator training.
"The local community will continue to see the 48th Fighter Wing aircraft flying, although less frequently."