Beyton geese: speed signs aim to prevent more deaths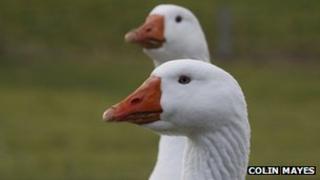 A Suffolk village is hoping new speed indicator signs can prevent more of its geese being killed by cars.
A gaggle of geese has lived on Beyton village green for about 40 years and has been fed by local people.
The parish council said numbers once peaked at around 30, but two were killed recently leaving just four.
The new mobile speed warning signs will be shared with three other villages and it is hoped drivers will to stick to the 30mph speed limit.
The geese, which feature on the village sign, regularly stray onto the roads which surround the green.
Roger Wyartt, parish councillor, said: "They're a symbol of our village so we don't want them all wiped out by cars.
"We hope the new speed-activated displays will reduce the problem of speeding drivers and save our few remaining geese."
The council said the number of adult geese had peaked at around a dozen and the group had produced up to 20 goslings in some years.