Lowestoft deaths: 'No other suspects sought'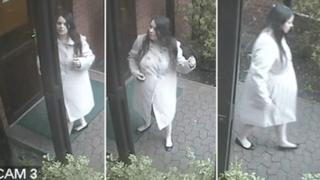 Police are not looking for any suspects over the deaths of a mother and her three children, a detective has said.
Fiona Anderson, 23, died of head injuries in Lowestoft, on Monday.
Her children, Levina, three, Addy, two, and 11-month-old Kyden, were found dead at her home in the Suffolk town.
Dept Supt John Brocklebank, of Suffolk police, said: "I am now satisfied we are not looking for anyone else in connection with the tragic deaths of Fiona and her children."
A police cordon remains in place around the flat in London Road South, Lowestoft, where the children were found.
'Overwhelming response'
Police said more than 15 people had come forward following the release of CCTV footage of Ms Anderson.
It showed her dropping off a set of keys at the home of the children's father, Craig McLelland, in Belvedere Road, Lowestoft, at about 06:20 BST on Monday.
She was found dead at about 08:00 in Gordon Road.
Mr Brocklebank said: "We have had an overwhelmingly positive response from the community to our appeals for information following the release of these CCTV images of Fiona.
"More than 15 people have been in touch as a result, offering us information."
Post-mortem tests showed Ms Anderson died from injuries consistent with a fall from height.
Further examinations are taking place on the bodies of the children after initial tests proved inconclusive.
Inquests into the deaths will be opened on Friday.