Call to improve education in Suffolk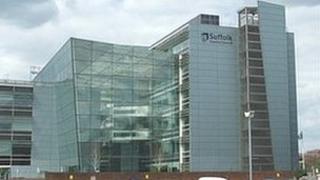 Performance in education in Suffolk is unacceptable and improvements are vital, local election candidates have said.
Candidates raised their concerns in the run-up to the Suffolk County Council local elections, which are due to be held on Thursday 2 May.
Suffolk was recently named in the bottom 10 of the government's league tables for state school GCSEs and third from bottom, out of 150 councils, in the primary school league table.
A February 2013 council report found that the exam results of Key Stage 2 pupils in the county "should be significantly higher".
It said Key Stage 2 pupils in Suffolk overall are "currently performing 5% below national average and bottom (in a table) of statistical neighbours".
The report added: "This cannot be an acceptable context for our children."
'Disgusted with results'
However the report also found: "Suffolk's performance in Early Years (education) has improved significantly. In 2012 there was an improvement of 9% on the key measure for Early Years compared to a 5% gain nationally. There has been a 15% improvement since 2009."
Another key issue in education in the county over the last few years is the move from three-tier schooling (with primary, middle and high schools) to a two-tier system (cutting out the middle schools).
Suffolk County Council has argued two-tier helps education by reducing the disruption of pupils moving to new schools, but remaining middle schools in the east of the county have attracted strong local support.
One other issue that has been keenly debated in Suffolk is the introduction of a Free School at Beccles.
Free schools have been set up by groups as diverse as parents, teachers, charities, businesses, universities, trusts, religious and also voluntary groups, and are funded directly by central government.
Supporters of free schools believe they add an extra choice for parents, but opponents are concerned they may take resources away from nearby schools.
David Wood, leader of the Lib Dem group on Suffolk County Council, said: "We are absolutely disgusted with the results (in education) Suffolk has been receiving.
'Grammar schools needed'
"When we shared power with Labour in control of the county, we were amongst the top 30 education authorities. We are now virtually bottom of the league table.
"While the council spent £104m on reorganisation of schools, attainment has been dropping like a stone. We need an in-depth review and help for schools to raise standards."
Sandy Martin, leader of the Labour group on the council, said the authority needed to bring back a school improvement fund which under the Labour/Lib Dem administration targeted funds to under-achieving schools.
"Now that money has instead been divvied up to all schools. We need to get the money to schools that really need it," he said.
"We need to provide extra trained staff and advice workers. Other parts of the country have done this to maintain an effective school improvement service."
UK Independence Party councillor and Suffolk spokesman Bill Mountford said: "Our policy nationally is to look to see a re-introduction of grammar schools.
"With higher education we want to see the return of student grants, but also many youngsters should benefit from apprenticeships."
'Raising the bar'
He said he was concerned at the Free School set up in Beccles as it "diverts away valuable cash resources from existing schools".
Mark Ereira, leader of the Green Party group on the council, said educational attainment in Suffolk has "not just seen a drop, it is falling off a cliff".
He said it was "an educational tragedy to move from three-tier schools to a two-tier system. It has caused untold pain from the teachers and pupils perspective".
He added: "Respect between the authority and schools is at an all-time low. They don't feel the authority is listening to them and don't think the politicians pay them any regard."
Conservative leader of Suffolk County Council Mark Bee said the authority recognised improvements were needed to education in the county and its Raising the Bar programme was working to boost results.
"The Raising the Bar project is equipping parents and governors to demand more from their schools," he said.
"The three-tier to two-tier programme will also help see an improvement in results," he added.