Felixstowe port officers seize nine million cigarettes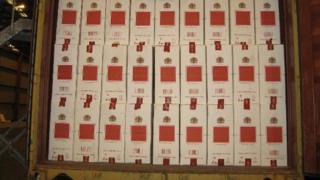 Border staff have seized nine million cigarettes at Felixstowe docks, which would have avoided £2m in unpaid tax.
Border Force said the cargo arrived on Wednesday, 17 April with a false manifest.
The cigarettes arrived at the port from Malaysia. The ship's documents claimed it was carrying plastic containers.
Charlotte Mann, Border Force officer at Felixstowe, said: "You would struggle to find a more brazen smuggling attempt.
"The container was full of cigarettes stacked floor to ceiling throughout," she added.
The government agency said confiscated cigarettes were destroyed.