Cocaine worth £17m seized at Tilbury docks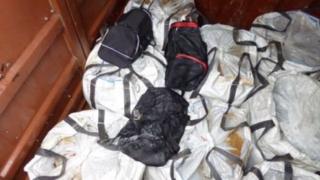 Border officials have seized cocaine estimated to have a street value of £17m at Tilbury docks in Essex.
The drugs, weighing 370lb (168kg), were found inside seven holdalls which had been placed on top of legitimate cargo of tin alloys in two containers.
The containers arrived from Senegal and were bound for Belgium.
Mark Kennedy, Border Force officer at Tilbury, said: "This will have severely damaged the illegal business of those involved."
The government agency said the drugs were found on 15 March, but the details had not been made public for operational reasons.
Mr Kennedy said: "There was no elaborate concealment - the holdalls had simply been placed on top of the legitimate cargo to allow the smugglers easy access.
"Their plan would have been to break into the canvas-topped containers, remove the drugs, fit a replacement seal and get away very quickly leaving no evidence that they'd ever been there.
"Although ultimately bound for Belgium, there is no doubt that the drugs would have spread further afield and a large chunk would almost certainly have found its way back to the UK."