Suffolk escort scam: Ex-detective received '£40k'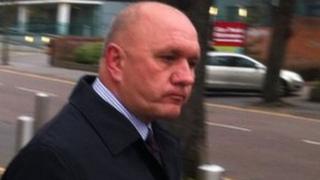 A retired detective on trial for fraud in an alleged escort and debt scam has told a jury the only money he received was a £40,000 salary.
Former West Yorkshire police officer Chris Taylor, 57, denies conspiracy to defraud and money laundering.
Toni Muldoon, of Spain, has admitted his part in a £5.7m escort and debt elimination scam uncovered by Suffolk Trading Standards.
Mr Taylor told Ipswich Crown Court he kept the money because he was "saving".
"I was unclear about the tax position. I didn't want to spend it," he said.
Mr Taylor, from Wakefield, was arrested after a three-year investigation by Suffolk Trading Standards.
He told the jury he did not know his bank account was being used for money from escort services.
There were 14,000 victims in the UK who lost money.
Clients 'lie'
The court has heard Muldoon had invested in Wakefield-based First Debt Recovery Ltd, where Mr Taylor was a director.
The defendant had given Muldoon access to his bank account, and told the jury he initially thought the debt business was professional and legitimate.
The court heard when the retired police officer set up an office in Wakefield, work had been transferred from Spain.
Giving evidence, Mr Taylor said: "That morning when we began trading on the stroke of nine the phones were literally alive with complaints from clients."
When he had raised the complaints with Muldoon he had replied: "They lie as much as we do", the court heard.
He had hoped to expand the debt business and involve other retired police officers, the jury was told.
Four others all deny conspiracy to defraud.
They are Mark Bell, 41, of Westerfield, Suffolk; Colin Samuels, 61, from Redgrave, Suffolk; Bradley Rogers, 29, from Malaga, and Geraldine French, 60, who lived in Spain and also has links in Suffolk.
The trial continues.