Escort scam trial: Ex-detective 'had conman biography'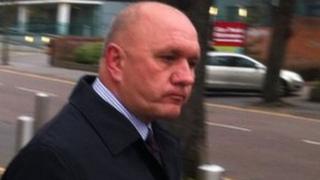 A retired detective on trial for fraud called a biography about his Spanish business partner "Born to be a Costa Conman", a court has heard.
The document was found on former Det Sgt Chris Taylor's computer when his Wakefield business and home were raided, Ipswich Crown Court heard.
Trading standards officers were investigating an alleged £5.7m escort and debt elimination scam.
Mr Taylor denies conspiracy to defraud and money laundering.
Prosecutor Nic Lobbenberg asked Mr Taylor why he had chosen the "conman" title to describe Toni Muldoon, a 66-year-old British national who lived in Spain.
Muldoon has already pleaded guilty to conspiracy to defraud.
'Outstanding' detective
Mr Taylor told the jury : "I came up with that in relation to the fact that he was involved in timeshare on the Costa Del Sol - nothing particularly illegal but the sort of work that leaves a strange sort of feeling."
Mr Lobbenberg asked Mr Taylor why he had gone into business with Muldoon if he was "neither naive or gullible".
Mr Taylor said: "I had met him fleetingly, barely an hour in his company, on holiday. Very little chance to form a proper opinion."
The retired West Yorkshire officer told of his surprise when he realised £100,000 needed for clients had been taken from his debt business account.
He did not suspect the money had been the fruits of criminal activity and he knew nothing about any escort business.
He said he had used thousands of pounds of his own money to pay back clients and was proud of his debt business.
Described in court by a former colleague as an "outstanding " detective, Mr Taylor said of Muldoon: "I hate him for what he has done to me and my family."
Five defendants are on trial. The case continues.