Pleasurewood Hills' Hobs Pit ride given 12A BBFC rating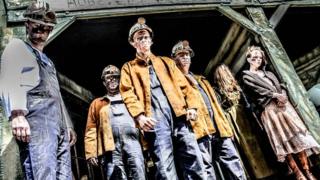 A new theme park ride which claims to be the scariest in the UK is unsuitable for young children, the British Board of Film Classification (BBFC) has said.
Hobs Pit at Pleasurewood Hills, Lowestoft, has become the second ride to be given a 12A advisory age rating by the film censor.
The £500,000 'dark ride' takes place in an abandoned mine and features a mixture of actors and special effects.
The BBFC said Hobs Pit contained some "creepy moments and gory encounters".
Senior examiner Murray Perkins said: "The BBFC regularly consults the public on a large scale about how acceptable they find moments of threat and horror on screen in films rated U to 18.
"Applying this knowledge to physical experiences is helpful for theme parks like Pleasurewood Hills who want to ensure their attraction is aimed at the most appropriate audience."
Last year the BBFC awarded the same rating to the Nemesis Sub-Terra ride at Alton Towers.
Hobs Pit was devised with the help of Hollywood special effects artist Rob Ostir, who has worked on films including Eight Legged Freaks and 2012.
Nick Sim, 31, was one of the first members of the public to try Hobs Pit ahead of its official opening on 2 June.
Mr Sim, who lives in Ipswich, "fell in love" with theme parks when he first visited Pleasurewood Hills as a six-year-old and has since visited "pretty much every theme park in the UK".
"For the money they've spent it is pretty good," said Mr Sim, who runs the Theme Park Tourist website with his wife Natalie.
"Yes, they are actors hiding behind walls but there are some high-tech effects using video and mirrors to create holograms.
"I was scared by a few of the actors jumping out."
Mr Sim said Hobs Pit provided more thrills than the Nemesis Sub-Terra ride, which "wasn't scary at all".
But Universal Studios' House of Horrors ride in Hollywood remains the scariest ride he has been on.
"They had a very large scale model of Chucky from Child's Play looking at me," he said.
"As we walked off we realised it wasn't a model as it got up and walked behind us - I pretty much jumped out of my skin at that point."
Alexis Camelon, the managing director of Pleasurewood Hills, said the BBFC rating would help "manage expectations" of visitors.