Edith Cook: Statue plan for Britain's first female pilot in Ipswich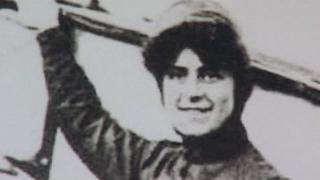 Britain's first female pilot could be honoured with a memorial in her hometown of Ipswich, Suffolk.
Edith Cook was born in 1878 and went on to become an exhibition parachutist before learning how to fly in France.
She had planned to fly across the North Channel but died after a parachute accident in Coventry in 1910.
Suffolk Aviation Heritage Group has applied for planning permission to create a memorial on a vacant plinth on Fore Street, where Cook was born.
Two years ago the group helped dedicate a headstone on her previously unmarked grave in Coventry.
Speaking at the time, Cook's great, great, great niece, Louise Argent, said she "flew in the face of convention".
'Air of mystery'
"It was before the vote and she was out there doing the things men were doing," Ms Argent said.
"She was right at the forefront of aviation."
In its planning application, Suffolk Aviation Heritage Group said Cook had come from a modest background and "surmounted the mores of Edwardian society through hard work, determination and courage".
"Only six months after Louis Bleriot had flown the English Channel, Edith, as Miss Spencer Kavanagh, was reported as Britain's first female pilot."
Cook gave demonstration flights in France before returning to England.
"Unfortunately she died prematurely in a parachuting accident in 1910," the group said.
"Her significance in aviation history has thus been sadly overlooked."
Dr Harvey Osborne, senior lecturer in history at University Campus Suffolk, said: "She was the first British female pilot, the first British woman to fly solo and made over 300 jumps as a parachutist.
"She is doing these daring things at a time when women weren't full citizens.
"They didn't have the vote until 1918, which really puts her achievements in context for a modern audience."
Dr Osborne said he believed Cook's efforts inspired other female pilots who became "exemplars" for the woman's suffrage movement.
"These early women aviators lent themselves to the cause - if they can fly a plane then surely they can vote," he said.
Ipswich Borough Council approved the outline planning permission on Wednesday.