Lowestoft funeral of Fiona Anderson's three children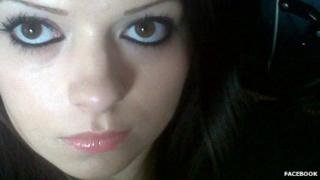 The funeral has taken place in Suffolk of three children who were found dead shortly after their mother fell to her death from a car park.
Fiona Anderson, 23, who was pregnant, fell from the Gordon Road car park in Lowestoft on 15 April.
The bodies of Levina, three, Addy, two, and 11-month-old Kyden, were later discovered in a bedroom of her home in London Road South.
The children were laid to rest after a funeral in Lowestoft.
Inquests were opened and adjourned in April, with the cause of the children's deaths described as unascertained.
A funeral for Ms Anderson and her unborn child will take place at a later date.
Last month, Suffolk County Council leader Mark Bee said more local authority support was needed for "troubled families".