National Lottery jackpot won by Lowestoft doughnut maker Jean Swatman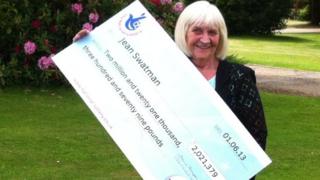 A supermarket doughnut-maker from Lowestoft has won £2,021,379 on the lottery.
Jean Swatman, 62, works part-time at Morrisons on Tower Road and she has been given the week off to take things in.
She said: "I sat there numb and it hasn't sunk in that I've got all that money in the bank."
Earlier this week it was revealed a couple from Ipswich won £6,123,395 on the lottery.
Ms Swatman, who is a widow, said she bought two Lucky Dip tickets on Saturday at a convenience store on Norwich Road.
"The only thing I really want to do is spend it on the children and grandchildren and upgrade my house as at my age I don't think I need to move to a bigger house or anything flash," she said.
"I love my job making the doughnuts and my colleagues are lovely and I would honestly love to go back, but I don't think my family's going to let me."